Plumbing Company in Spring Valley Village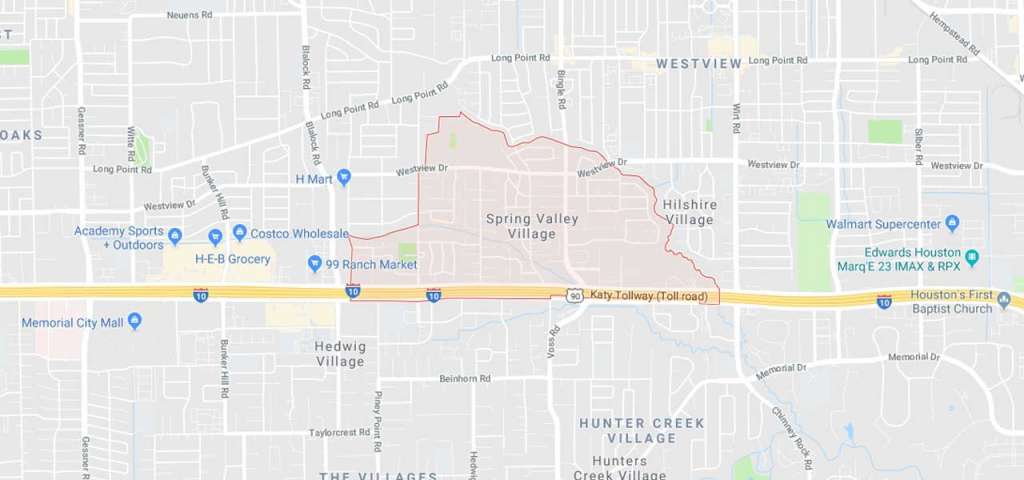 Local Plumbing Company Serving Spring Valley Village
Do you have a toilet that never stops running? Do you need a plumbing company in Spring Valley Village for a leaky faucet that only seems to drip at one o'clock in the morning and keeps you up every night?
If you are experiencing one of these bathroom nightmares you need to contact a professional. Call on the expert plumbing company in Spring Valley Village, Nick's Plumbing Service.
In late 1954, a petition for incorporation was signed by twenty-six residents of the area now known as Spring Valley Village and handed to then Harris County Judge Bob Casey. The document sought the establishment of the Town of Spring Valley, and an election on the matter soon followed. By a narrow margin (185 – 165), victory was declared for those in favor of incorporation, and on April 25th, 1955, the people of Spring Valley's will was done.
One major issue that spurred the matter of incorporation, was zoning ordinances. Building permits in the zone were being issued as early as July,1955. Spring Valley adopted a zoning law in April of 1956, with homes in the area were restricted to single-family, single-story dwellings. The ordinance was necessary, as Spring Valley Village did not have access to a municipal water or sewer system. In 1981, the ordinance was updated to reflect the building of two-story homes in Piney Point Village for the first time. To coincide with Fourth of July celebrations in 1983, a Spring Valley City Hall was dedicated to the citizens. The building includes the offices of all city officials, as well as the Municipal Court and Police Department.
In 2007, the city's name was officially changed from Spring Valley to Spring Valley Village. Regardless of the name variations, all postal commercial and residential postal addresses in Piney Point Village are recognized as Houston, TX.
Nick's Plumbing Service in Spring Valley Village:
Sewer Line Services
Water Heater Installation
Gas Line Replacement
Water Heater Installation
Drain Cleaning Services
Toilet Installation
Gas Line Installation
For any plumbing problem you may be facing, our expert, licensed and experienced plumbing technicians are ready to help you tackle it head-on, and fix it right the first time. Be sure to call Nick's Plumbing Service for the best plumbing company in Spring Valley Village.
Plumbers in 77024
Plumbers in 77055