Plumbing Company in West University Place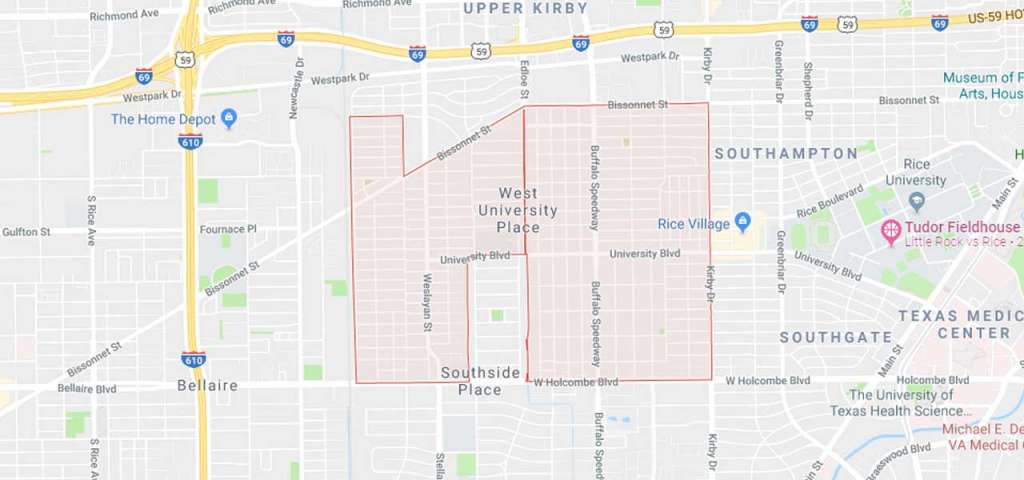 Local Plumbing Company Serving West University Place
Finding the right provider of plumbing services in West University Place is essential if you want that drain unclogged or a new water heater installed. Nick's Plumbing Service has been providing the West University Place area with their knowledge and expertise in all aspects of water, gas, and sewer plumbing since 1979.
West University Place (also known locally as West University, or simply, West U.) is a city that borders Houston, Southside Place, and Bellaire, TX. Former Governor of Tennessee, Ben Hooper established West University Place in 1917. The Houston Chronicle has described West University Place as a "wealthy city inside of a city" where "bills get paid, and accomplished parents raise accomplished children." Hard to believe that before this development, portions of West University Place were once part of the Harris County Poor Farm.
In the mid-1920's, the city of Houston was unwilling to build out their power lines far enough to reach West University Place. In response, West University Place chose to incorporate and become its own city. Even as other surrounding areas were annexed into the city of Houston, West University Place refused to consolidate and instead adopted its independent city charter in 1940.
The city of West University Place derived the names of its streets from Rice University student Lillian Nicholson. Asked by a friends' father who was a city planner at the time to do so, Nicholson used names from an English literature book.
Initially, the architecture of the city of West University Place was mainly bungalows and cottages. By the mid-1900's, that style gave way to more one where many Georgian style houses had been constructed. Between 1987 and 2002, nearly 50% of all homes in the city were torn down and replaced. By the time the year 2000 came about, a standard 5,000 square foot lot in West University Place sold for an average price of just over $1,000,000.
Nick's Plumbing Service in West University Place:
Commercial Plumbing
Plumbing Services
Whole-House Re-Pipe
Water Heater Repair
Water Heater Installation
Drain Cleaning Services
Gas Leak Detection and Repair
Sewer Line Repair and Installation
Maintaining a home in the West University Place area means a lot more than "keeping up with the Jones'." You like the better things, and when it comes to plumbing services in West University Place, you need only to call Nick's Plumbing Service.
Whether it's changing a leaky faucet or remodeling your kitchens and bathrooms, the only call you'll need to make is to Nick's!
If you need quality plumbing services in West University Place, give us a call today. We're on the Way!
Plumbers in 77005