Plumbing Company in Montrose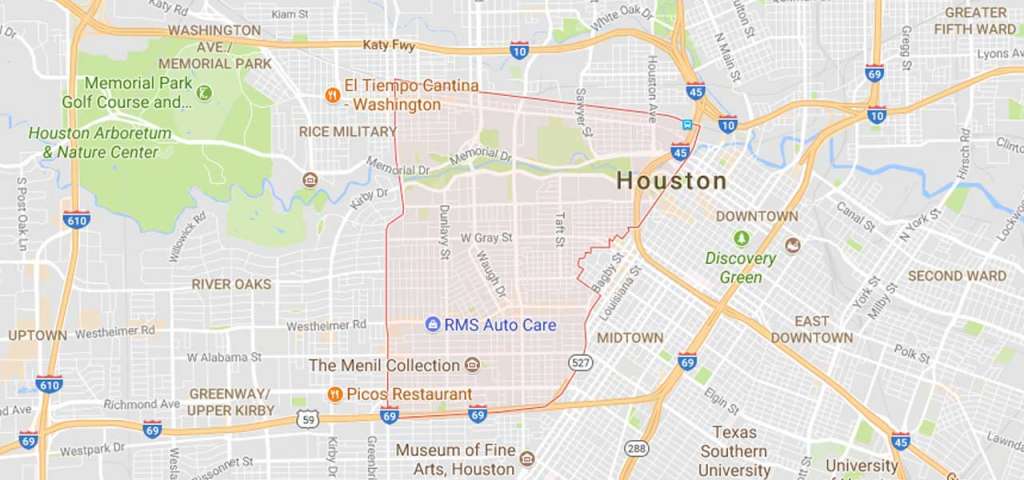 Local Plumbing Company Serving Montrose
Nick's Plumbing Service have been providing plumbing services in Montrose since 1979. Our long-time reputation in the community is due to our unending commitment to not only excellent and timely service, but to being far-and-above the obvious choice for all your gas line, sewer line, and plumbing service needs in Montrose and the surrounding communities.
Montrose is a primarily residential neighborhood located in the Neartown area of Houston, Texas. Established in 1911, the neighborhood is a demographically diverse area with renovated mansions, wide-porched bungalows and tree-lined streets.
Montrose was the first large-scale, restricted planned subdivision. Originally platted by the Houston Land Corporation in 1911, and built upon a 3,370-acre tract of land just southwest of downtown Houston. The area was named after a historic town in Scotland. The company spent over $1,000,000 on street construction, utilities and other improvements. Those improvements today would cost just shy of $25,000,000,000 (that's billion with a "B").
Some of the most important features of the Montrose neighborhood are its grand boulevards and esplanades. The boulevards were built with the intention was to build large mansions along them. The first, at 3800 Montrose Boulevard is now known as the Link-Lee Mansion and is a city landmark, was sold by the developer for $90,000.
The Montrose neighborhood grew rapidly over the next decade, and many of Houston's most prominent citizens built homes in and around the Audubon Place Boulevard area. These homes reflected the architectural styles of the period. Craftsman homes, Prairie, Mission Revival, Queen Anne, Cape Cod and Art Deco homes were all built around this now historic area.
In the post-World War II era, the Montrose area fell into a bit of a decline, as many families left to move to new suburbs, and commercial and institutional development eventually took over the area. Several of the original Montrose mansions were demolished, and many of the existing homes were modified to be used for commercial operations.
Audubon Place is the last remaining mostly-residential section within the original boundaries of Montrose. In recent decades, the area's charm and historical value has become more accepted. Montrose residents purchase neglected buildings and restore them for both residential and commercial uses.
Nick's Plumbing Service of Montrose have been providing our customers with all aspects of plumbing repair since 1979. Nick's highly trained, fully background-checked and licensed plumbers are ready to help you tackle all your plumbing needs. From repairing a leaky toilet or kitchen faucet all the way up to a whole-house repipe for water, sewer or gas lines, let the plumbing services in Montrose experts of Nick's Plumbing Service help you get the job done right.
Nick's Popular Plumbing Services in Montrose
Nick's Plumbing Service should be your first and only call when it's time to bring in plumbing services in Montrose professionals. Our stellar reputation is won by constantly challenging our technicians to be the absolute best in the industry.
If you're look for the best plumbing services in Montrose you need to call Nick's Plumbing Service and schedule and appointment today.
Plumber in 77007
Plumber in 77002
Plumber in 77006
Plumber in 77019