Plumbing systems have been in use for almost five thousand years, and ever since their inception, there has been a need for someone to maintain and repair them. We call those people plumbers.

Yes, plumbers, the guys who install your faucets and clear those nasty toilet and sewer clogs. You may not know it, but every licensed plumber in Texas has thousands of hours of experience behind them.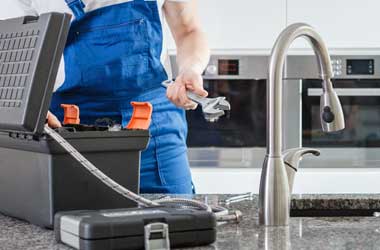 In the state of Texas, it is against the law for anyone other than a licensed plumber to perform plumbing work in your home. The only exception to this law is if you can do the work yourself as a homeowner. Hiring your local handyman is a great idea when it's time to clear out the garage or clean your gutters, but for plumbing, that "Chuck in a Truck" is not qualified to repair your plumbing.
One of the most important decisions a homeowner can make is who they hire as their plumbing company. It may not seem like a big deal, but who you hire can often be the difference between a small plumbing bill and a hefty insurance claim. Water damage from plumbing is the number one cause of homeowner's insurance claims in Texas every year. If your water damage was caused by the faulty work of an unlicensed plumber, that claim could come out of your pocket.
Your local handyman probably gets hired for all sorts of household tasks and can probably do a great job of tightening a faucet or stopping your toilet from running. The problem with hiring a handyman for a plumbing job is the lack of day-to-day experience with actual plumbing work. A licensed and experienced plumber is required to complete ongoing training, both on-the-job and in the classroom, ensuring that your plumbing job is done right the first time.

To qualify for a tradesman's plumbing license, a plumber must have at least four-thousand hours of documented experience working for a plumbing company. Master plumbers must complete over eight thousand hours of on the job training and pass a series of certification exams. Becoming a licensed plumber in Texas is not as simple as buying a monkey wrench and overalls.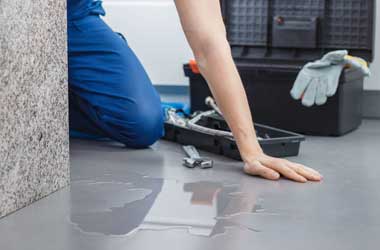 HIRING A LICENSED PLUMBER NOW WILL SAVE YOU MONEY IN THE FUTURE
Of course, hiring a licensed and experienced plumbing company is going to cost more than hiring a handyman. Chances are your local handyman doesn't carry liability insurance to guarantee his work, and along with that, there's probably no warranty with the work he does. Nick's Plumbing and Air Conditioning Services warrantees all their work, as well as the parts we install.
Having the work done properly by a trained professional now will save you from a variety of headaches in the future. Poorly planned and installed plumbing work leads to leaks and broken pipes. Left unchecked, water leaks can cause significant damage to floors, walls, and ceilings in a short amount of time.
DO YOUR RESEARCH BEFORE CALLING A PLUMBING COMPANY
Gone are the days when you could yell over the fence and ask your neighbor who they recommend as a local plumber. Here in 2019, we have the internet and Google Searches to make finding any home repair specialist easier.

Compare the reviews for SEVERAL plumbing companies, on several different platforms. Google searches are generally the most reliable, but other review sites like Yelp or Angie's List are also good sources of information about local plumbing companies.
ASK A LOT OF QUESTIONS BEFORE YOU HIRE
You want to make sure the plumbing company you hire can handle the work that you need to have performed. Ask about the type of insurance they have, and if it covers remediation or repairs caused by faulty workmanship. Ask about the plumbing technicians that will be coming to your home, are they apprentices, or are they fully licensed as well?

Be sure you know before starting a plumbing project who will be responsible for hauling off old plumbing fixtures and restoring your landscape. Also, be sure to have a written estimate that details all the work that is going to be performed. Be sure that estimate includes all materials that are included in the job cost.
WHY YOU SHOULD CALL NICK'S WHEN YOU NEED A LICENSED PLUMBING COMPANY IN HOUSTON
Nick's Plumbing and Air Conditioning Services only employs licensed and experienced plumbing technicians to ensure the highest quality service.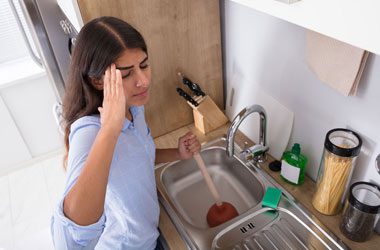 Nick's Plumbing and Air Conditioning Services operates over fifteen fully stocked trucks from their headquarters in the Houston Heights. This "plumber's supply store on wheels" concept allows our techs to have the right parts with them for your job.
Nick's Plumbing and Air Conditioning Services technicians receive ongoing weekly training, mandated by the company. Nick's Plumbing & Air Conditioning technicians are kept up to date on all the latest advances in plumbing technology, plumbing appliances, and tools.
Nick's Plumbing and Air Conditioning Services has over seven hundred five-star Google reviews and a forty-year reputation for great service in and around Houston.
While price is always an important consideration in any home repair job, the cost of hiring a plumbing company as opposed to a handyman is a "save now, pay later" situation that never works out well. We strive to provide a seamless customer experience from paperless invoicing, to the e-mail we send with a photo of the technician coming to your home, to the text messages we send when we're on the way, all aiming toward our goal of five-star service.
Call Nick's Plumbing and Air Conditioning Services for a cost evaluation or second opinion for any plumbing job you have.